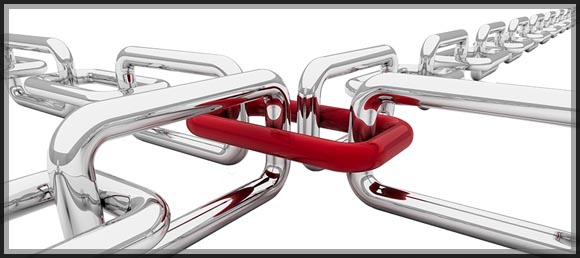 Link building is a key factor in improving search engine positioning. Just a few years back it didn't really matter how you acquired links, but now Google has become strict and penalizes websites that they feel are "manipulating" their rankings. To ensure you don't get penalized, avoid these 10 link building mistakes.
1)      Avoid building one type of link
One of the quickest ways to set off red flags with search engines is to focus on one type of link source. For example, you don't want to build links that are all from social bookmarking websites. Links should be mixed from all types of sources.
You should mix in links from blog posts, profiles, forums, sidebars, article directories and other sources. The more mixed the link sources the more natural your link profile will appear.
2)      Avoid building links from the same IP
This is something most people overlook. If you're buying some sort of link package you need to find out if your links will be placed on separate IPs. This is something that Google checks because nothing screams link manipulation like 200 links, on 200 different websites, all with the same IP.
It's important to realize that there are different blocks in an IP address and that the IP address should be unique from start to finish.  It's not completely necessary and sometimes unavoidable, but it's less likely to cause you problems.
To find out what IP a website is hosted on, you can download any number of plugins for your browsers or use a website like http://www.whois.sc.
Last but not least, it's important to note the location of IPs. If you're located in the US and all your links come from IPs located in India then you're likely to set off a few alarms with Google.
3)      Avoid blog networks
Blog networks are artificially setup to abuse Googles algorithms. They used to work well because links on blog networks would be surrounded by content, which made the link much more powerful from Googles perspective.
Each blog in a blog network typically consists of unrelated categories, with each post containing links to various websites. If you have links on these types of blogs then I would advise you to remove them. If someone tries to sell you links on these types of blogs then avoid them unless you want your website gone from Google in a few months.
4)      Avoid building links aggressively
Building links aggressively can often times get your website in trouble. This is especially true for websites that are less than 6 months old.
That's not to say that aggressive link building is not doable. Websites go viral all the time and do quite well in search engines. However, the sites that go viral get picked up by authoritative websites that basically allow them to stay out of trouble when there is a sudden flood of backlinks over a short period of time.
Unless you're picking up links from authority sites then you will find that, in the beginning, less is more. This simple rule will keep you out of trouble and will give you the long term results you desire.
5)      Avoid building too many links to the same page
This is a very common; most website owners when building links tend to focus primarily on the homepage. This looks unnatural to Google because it shows a high level of link manipulation on your end. Naturally linked websites will have a lot of links to their homepage but they will also contain links to inner pages.
Building links to inner pages will help you avoid potential penalties but it will also provide you with better rankings for all sorts of terms located on these pages.
6)      Avoid excessive link exchanges
Link exchanges are an ancient form of link building and at one point this was one of the most effective ways to improve search engine positioning. Unfortunately, this is no longer the case. A few link exchanges are not going to hurt you and will actually look natural, but when your whole strategy is to link exchange your way to the top then you're basically painting a target for Google to hit.
7)      Avoid links from bad neighborhoods
Bad neighborhoods can be anything from link farms, adult sites to casino sites and anything else that seems shady. Also, avoid excessive links from websites that are off topic, and not relevant to your niche. A few non relevant links is normal, it's only when the majority of your links come from off topic sources that you should start worrying.
8)      Avoid excessive site-wide links
Site-wide links are commonly seen in the sidebar and footer of websites and typically appear on every page of a website.
Too many of these types of links will harm your website but a few should be fine and in fact, would appear natural.
If your link profile consists of too many sitewide links consider removing some, especially if you've recently seen a drop in rankings.
9)      Avoid excessive nofollow links
Nofollow links are marked such to indicate that they are not to be considered of the same value as regular links by search engines.
These types of links are typically found in comment sections, forums, profile pages, but can actually be any type of link.
There are browser plugins that allow you to check if a link is follow or nofollow, and software that will do the same. You can visit your browser plugin page and install a nofollow plugin to check your own links.
If you find that you have too many nofollow links then consider removing some or balance out your profile by avoiding nofollow links moving forward.
10)   Avoid building links with the same anchor text
Now, more than ever, it's important to vary anchor text in your link building. Not only should you focus on variants of your targeted term, but you should also build links with anchor texts that are completely random and unrelated to your targeted term.
If you find that you recently lost rankings, you should check your anchor text profile. If you find that more than 30% of your total links consist of a targeted term then consider balancing this out with non-relevant anchor text links.